23/12: Download Lagu Gratis
Diposting ini saya mendownload lagu dari radioblogclub.com
radioblogclub.com salah satu web yang menyediakan audio steaming
kumpulan lagu-lagunya lumayan banyak dan kumplit
* kelebihanya : - Bisa di download menggunakan download manager
- Bisa juga Resume downloadnya
- Bisa di download lewat browser
- Size filenya 50% - 75% lebih kecil dari aslinya
* Kekurangannya : - Ngga semua file lagunya berformat (mp3) melainkan (rbs)
Masih Bisa di dengar lewat winamp player
- Kualitas kurang jernih
Mungkin cara ini udah dibahas di site lain..
kita langsung ajah yah ke tujuan saya posting di blog saya :
1. buka browser ke halam http://www.radioblogclub.com
2. Register / Sign up / http://radioblogclub.com/register.php ,isi yang diperlukan
3. Masukan nama lagu yang anda inginkan di kolom search

contoh: underoath
4. klik tombol

5. Setelah di klik, di bagian kanan lihat di bagian Blog This Track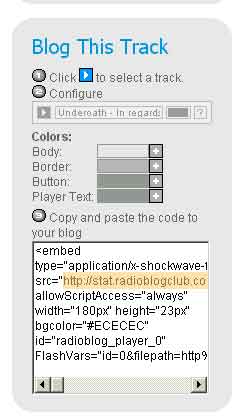 6. dibagian "Copy and paste the code to your blog" cari tulisan "filepath=http%3A%2F%2Fwww.speedlifes.com%2Fradio.blog%2Fsounds%2Funderoath-09-writing_on_the_walls.rbs"
mulai dari www.speedlifes.com%2Frad... ,ganti "%2F" menjadi "/"
sehingga menjadi www.speedlifes.com/radio.blog/sounds/underoath-09-writing_on_the_walls.rbs
7. udah dapet URLnya, sekarang tinggal buka
http://www.speedlifes.com/radio.blog/sounds/underoath-09-writing_on_the_walls.rbs ,file langsung terdownload
--- selesai ---
klo URLnya ga bisa coba cari yang lain dengan judul yg sama